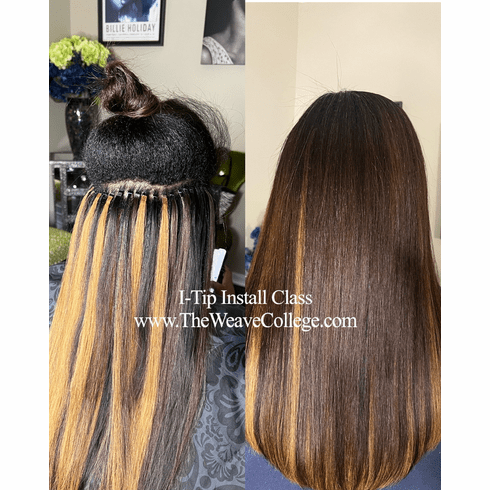 1-On-1 Microlink I-Tip Fusion Class (Paying In Full)


WEAVE COLLEGE HAIR FUSION KERATIN I-TIP INSTALL CLASSES

Private1-On-1 Classes. Take any of our Workshop Classes as a Private 1-On-1

Classes by Rhonda Robinson Weave Genius 19 Years Pro Extension Stylist.

Class 4 Hours

Includes: Class, Class Supply Kit, Clips, Combs, Hair Grippers, Scissors, Brazilian Hair Vendor Details, TWC Back Pack & Certificate.

Learn how to install your I-Tip Keratin Hair Fusion Extensions from beginning to end. Learn the proper steps to make it last. You will also learn how maintain I-tips and proper removal of I-tips. After this class you will know how to install I-tips hair extensions.

Bring: 10"-14" Mannequin Head with straight hair, 100 Pieces of I-Tips (Stick Tips) Keratin Extensions any length any texture. Tripod Mannequin Stand.

Pay In Full or Use Payment Plan

ALTERNATIVE WAYS TO PAY:

*ZELLE: WeaveCollege@yahoo.com *CASH APP: $WeaveGenius *PAYPAL: www.paypal.me/weavecollege Note: your name, class & city

Class must be paid in full Tuesday 6 days prior to class event. Reserve seat as soon as possible. I have a seating limit.